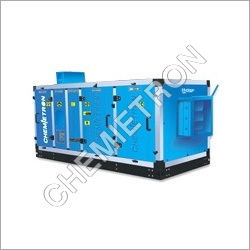 Air Handling Units
Product Code : CHEMIE
Product Description
Backed by our diligent professionals, we are proficient in manufacturing and exporting a range of Air Handling Units through out the world. Our offered product is available to the customers along with a large metal box that possesses a blower, which is effective in cooling as well as heating the place as per the requirement. This range if units is engineered using sophisticated machines at our unit. Our equipment is used in air conditioner, ventilation systems. The Air Handling Units that we are providing are applicable in various multiplexes, hospitals and research labs.
Features:
Durable
Longer service life
Easy to install

Air Handling Units (AHU)
We are offering our esteemed customers a wide array of air handling units that are used in hotels, hospitals, research labs, multiplex malls and others. This device is used to condition and circulate air as part of a heating, ventilating and air-conditioning (HVAC) system. Comprised of filter racks or chambers, sound attenuators and dampers, it comes with a large metal box containing a blower that helps in heating and cooling elements. Our range of Air Handling Units are exclusive and are rolled out using state of art technology and sophisticated engineering. Our range is also quite cost effective as well.
Chemietron has vast expertise in the designing of the HVAC systems for various Clean room applications. We guarantee that our designed and installed systems meet the required Clean Room classification as well as the current international GMP standards - including those of EU and USA. The central devices used are of the highest quality with low running costs and have low maintenance requirements. Energy conservation is always an important part of our design. The AHUs used are specially made for the intended application and are very robust in construction giving our clients reliable operation throughout the project life.
Selection Parameter : -
Type Floor Mount / Wall Mount / Horizontal / Vertical

Design Blow Through / Draw Through

Frame Work :Thermal Break / Non Thermal Break

Panel MOC : Double Skinned / Singled Skinned

Base Frame : GI Skid with Corner / 'C' Channel

Outer Sheet : Pre-Coated with PC / Powder Coated

Inner Sheet : Plain GI / Pre-Coated / SS

Panel Thick : 25mm / 45mm

Insulation : Injected PUF @ 40±5 Kg/m3

Static Pressure : 50mm to 200mm WG

Types of Drive : Belt Driven / Plug Fan

Types of Fan : Backward Curved / Forward Curved

Filtration Stage Pre-Filter / Fine Filter / Bag Filter / HEPA Filter

Filter Condition Differential Pressure Port

Nos. of Damper SA / RA / FA / PA

Type of Damper Aerofoil / GI Powder Coated

Types of Zone Inlet Lower with bird Screen
Return Air Plenum with RA / FA Damper
Pre-Filter Section / Bab Filter Section
HW / Steam / Heater Section
CHW / DX Coil Section
Mist Eliminator
Fan Section
Fine Filter Section