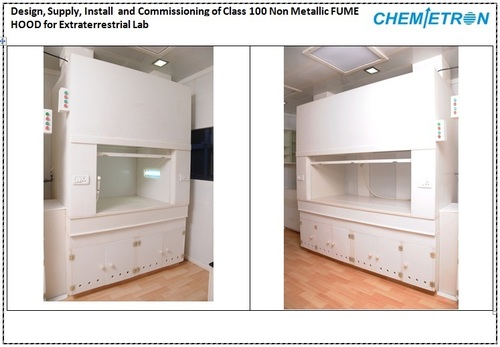 POLYPROPYLENE FUME HOOD
Product Code : CHEMIE
Product Description
We are entrusted by industries for manufacturing and exporting high quality Polypropylene Fume Hood. Our offered fume hood is provided with a counter weight balance mechanism, which provides easy operation features to the customers. These hoods are engineered with high grade toughened glass and frame made from polypropylene at our end. Our hoods are also quality approved under the guidance of knowledgeable inspectors, who ensure the set international standards. The Polypropylene Fume Hood that we are providing to the industries is useful in removing fumes and smoke from the contamination free room.
Features:
Static & dynamic balanced motor blower
Corrosion resistant coating
High efficacy

"Chemietron" Polypropylene Fume Hood for protection of the personnel against toxic gasses and fumes by 100% exhaust to the outside.
Technical Specifications:
MOC : Main Unit - 100% Polypropylene fabricated
Work Platform : Black Granite (15/20mm thick)
Sash (Shutter) : Vertical rising of vertical opening
Sash monument with counter weight balance mechanism, Made of polycarbonate / toughened glass, Frame made from polypropylene, Counter weight balance cables made from PP Rope
Utility : Gas Cock / Air Cock / Vacuum Cock
Air Flow : 100 % Air take from inside room through
Statically & Dynamically balanced Motor-blower (MS PU Coated)
Fluorescent Lights (Vapor proof)
ON/OFF Switches on front fascia (BL / FL)
Ducting : made from PP / PVC Pipe / Flexible Duct Weather proof rain cowl to be provided at the outlet of blower
Noise Level < 80db at I meter from Fume Hood.
POWER SUPPLY : 440V AC, 3-Ø, 50HZ
tions and Accessories:
A wide range of configurations to suit any containment application: -
Base Cabinet with chemical storage cabinet (with air vent)
Sink : Molded polypropylene sink with drain nipple
Auxiliary Socket " 5/15 Amp. " As require qty.
Velocity display with High / Low Alarms
Filter chocking alarms
Auxiliary Powder Socket : 5/15 Amp for external equipment
FLP Electrical Goods for Explosion
Specifications:
Model
Working Area
W x D x H
Over All Dimension
(With Base Cabinet)
W x D x H
CEFH-32/30
915 x 610 x 760
1220 x 750 x 2475
CEFH-42/30
1220 x 610 x 760
1550 x 750 x 2475
CEFH-32/30
1830 x 610 x 760
2130 x 750 x 2475