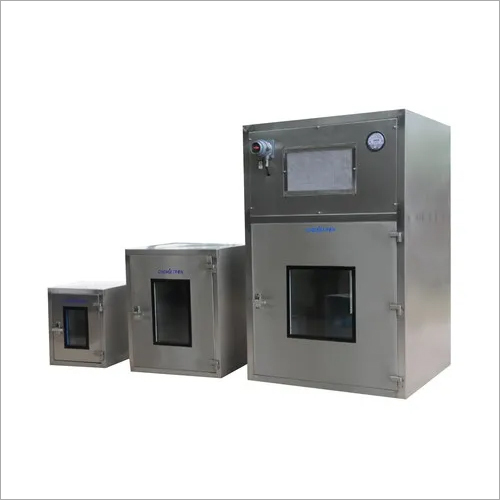 Static Pass Box
Product Code : CHEMIE
Product Description
Relying on the knowledge of our team, we have been successful in manufacturing and exporting Static Pass Box. This box is self-contained and is suitable to be installed on the wall or entrance of the clean and contamination free room. Our offered unit is incumbent in transferring materials from and into the clean room, while in progression there is no need for opening the door. In order to prevent both the doors of this Static Pass Box from being opened at the same time, this unit is also provided with an mechanical interlock.
Features:
GI Powder Coated
Swing Type Double Door

Audio / Visual Indication for material
Static Pass Box
"CHEMIETRON" Static Pass Boxes are self-contained units installed at the entrance to the CLEAN ROOM. They minimize the amount of particulate contamination entering the clean room by reducing operation "Traffic". Equipment and materials are passed into the clean room via the pass box. Which is equipped with a mechanical interlock system that prevents both doors from being opened at the same time. The pass box is an inexpensive facilities.
Technical Specifications:
MOC : GI Powder Coated / SS-304 / SS-316
Construction : Single Skinned / Double Skinned
Door : Swing Type Double Door (Double skinned) with View Panel With SS Hinges & 'D' Handle
Fluorescent Light (interlocked with Door)
UV Light with house meter (interlocked with Door)
Internal Coving for easy cleaning
Door Opening With Solid State Electronic Inter Locking Mechanism
When both door closed; both are elec. Magnet locked;
For open press touch screen to release the door
At A Time Only One Door Opened
Audio / Visual Indication for material is kept inside the pass box
In close condition of both door : UV Light will be on,
When open any one door : UV will off and FL will on
POWER SUPPLY : 230V AC, 1-Ø, 50HZ
Options and Accessories:
A wide range of configurations to suit any containment application: -
Mechanical Interlocking
Once through LAF module for Sterile air
Bottom with Roller base for heavy drum / material transfer
Flush level with ground level for easy trolley transfer
Flange for one side flush mount in clean room partition / wall
FLP Electrical Goods for Explosion area
Specifications:
Model
Working Area
w x d x h
Over All Dimension
W X D X H
CSPB-18/18
200 x 250 x 200
460 x 460 x 460
CSPB-18/18
350 x 400 x 350
460 x 460 x 460
CSPB-24/24
500 x 550 x 500
610 x 610 x 610
CSPB-30/30
650 x 710 x 650
760 x 760 x 760
CSPB-36/36
800 x 865 x 800
915 x 915 x 915